High Cholesterol Symptoms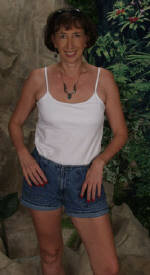 High cholesterol symptoms are usually rare.
I found out I had high cholesterol during a routine annual exam when I thought I was the picture of health.
This picture of me was taken when I had high cholesterol.
Don't assume you are immune to this health condition. Find out about all of the high cholesterol risk factors.
Suggestions
Be sure to have your yearly checkups (even if you feel fine).
Have your cholesterol levels checked.
Adapt a healthy lifestyle of good nutrition and regular exercise.
Research
Heart Disease and Stroke Statistics. American Heart Association, 2005 Update
Organizations
American Heart Association
American Stroke Association
Related Links
<! -- BEGIN - LINK AD 200X90X4BLACK W/LINKS -->
<! -- END - LINK AD 200X90X4BLACK W/LINKS --> High Cholesterol Risks
High Cholesterol Risk Factors
Heart Attack Symptoms
Stroke Symptoms
Peripheral Vascular Disease Symptoms
---
To find out more about high cholesterol symptoms
and related topics, check out FAQ on Cholesterol.
<! -- BEGIN - FOOTER WITH GOOGLE SEARCH -->
---
This page was last updated on 11/17/05.
<! -- END - FOOTER WITH GOOGLE SEARCH -->